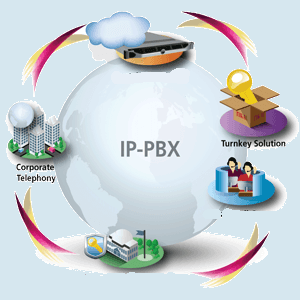 VoIP phone usage has been growing consistently since 2012. The growth rate has been around 7% every year. 2016 will be no different. That year will see the same growth in VoIP phone use. It is now a buyer's market for IP-PBX. The market conditions are extremely favourable – low prices, large number of alternates, limited volatility in prices, and technological advances.
The market is highly competitive and is leading to mergers and acquisitions. Cisco, Avaya, NEC and Toshiba are the top four vendors for VoIP phones, services and accessories. By the end of 2015, VoIP services market will peak at some $75 billion.
The Adoption of Hosted Services
Companies are always looking to cut costs. That is not new. What is new is the companies today are ready to outsource a prime asset of the company – communication. Today, nearly 50% of companies of all sizes – small, medium and large – are selecting managed communication services over establishing their own in house. This augurs well for cloud based VoIP phone systems.
What About Homes?
Residential VoIP phone usage spend is expected to touch $377 billion by 2016. Around 25% of all US households have stopped using landlines. 60% of all people between the ages of 25 and 29 don't have a landline. Inexpensive and reliable broadband, and improving connectivity as well as good voice quality is propelling this trend.
Advantages of Cloud Telephony
Before we get to that, let us foresee one important point – will cloud telephony completely kill in house IP-PBX? The answer is yes and no. Today the bulk of business IP telephony is supplied by premises-based solutions. Currently about 59% of the market is handled by in-house PBX. By 2016 end, this could change to 32%. Nearly 75% of respondents representing 100-999 employees have said they will stick with in-house systems. So all is not lost of premises based IP-PBX.
At the same time let us look at some of the advantages of cloud based systems:
1. Flexible, effective, and budget friendly.
2. Complete set of features including UC.
3. Easy to switch vendors.
4. Low upfront costs.
5. IoT as a disruptor. You cannot connect to 80 billion devices from your premises based IP-PBX.
6. Low costs for trying to switch from PSTN. Easy fallback.
7. Easy growth prospects.
8. Complete mobility solutions.
9. Pay only for capacity used.
10. Have access to enterprise scale exchanges without the cost of owning one.
2016 is going to be another exciting year for VoIP phone systems and other forms of IP based communication. PSTN is really dead. Mobile phones and VoIP are the primary forms of communication of the future. At least with the technologies we know and understand today.
About Universal ComOne
Universal ComOne offers award winning business telephone systems that are right for any business. We can design a solution to fit your needs.
Call 337-205-9364 for all your communication needs.
https://universalcomonela.com/wp-content/uploads/2015/05/IP-PBX-Security.png
300
300
comeone-stage
https://universalcomonela.com/wp-content/uploads/2023/06/Universal-ComOne-is-now-LineOne-300x138.png
comeone-stage
2015-10-21 07:50:38
2015-10-21 07:50:38
VoIP Phone And 2016