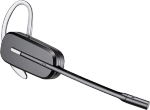 What can a cordless headset do for you?
Regardless how much time you spend on the phone each day, cradling a phone on your shoulder can cause neck and back pain. By using a headset as part of your daily work routine, you will become less fatigued and you will notice improvements in your posture.
Freedom:
Wireless headsets give you the additional freedom to leave your desk and move around during phone calls, currently up to 350ft from your phone.
Productivity:
Free up both hands while on the phone call, so you can type on the computer, gather files, or take notes. This allows you to be more productive throughout the day.
Call Management:
With easy one-touch buttons on the headset, you can answer calls, end calls, increase/ decrease the volume, and even mute yourself during a phone call. Manage your calls from up to 350 feet from the charging base.
Audio Quality:
You have a choice of narrow or wideband grade audio quality – narrowband will extend your talk time, whereas, wideband mode will provide clearer conversations. With a noise-canceling microphone, any disruptive background noise will be filtered out, so your listeners will hear a clear conversation.
Eliminate Neck Cramps:
Using your shoulder to hold up the phone handset to your ear can lead to neck and back discomfort. This will eventually lead to poor posture. The use of a headset is recommended by The American Physical Therapy Association as well as many doctors and chiropractors.
https://universalcomonela.com/wp-content/uploads/2014/09/Plantronics-CS540_a-e1410902335859.png
110
150
comeone-stage
https://universalcomonela.com/wp-content/uploads/2015/11/Universal-ComOne-Logo-Transparent-300x62.png
comeone-stage
2014-09-16 16:17:02
2014-09-16 16:17:02
Top 5 Benefits of Using a Wireless Headset