Expandable Conference Phones
The ClearOne MAX EX™ is the only conference phone system on the market with the ability to link up to four phones for outstanding full-room coverage: multiple mics, multiple speakers and multiple dial pads. It is easy to set up and can be conveniently moved from room to room. Its sophisticated audio processing technologies deliver rich, full-duplex audio for natural, effortless conversations.
The ClearOne MAX EX's First-Mic Priority feature activates the mic closest to the speaker – eliminating hollow "tunnel" sound while automatic level controls keep participants' audio balanced and consistent. The ClearOne MAX EX™ is the best conference phone value providing superior room coverage at a better price than the competition.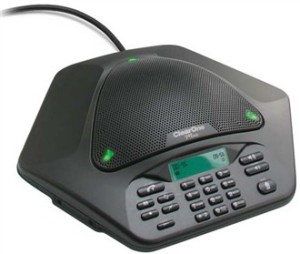 ClearOne MAX EX™ Conference Phone
$560.00 Each*
* Price does not include tax or installation and programming of equipment.
Simple and Intuitive Conference Phones
MAX EX™ Conference Phone System Features:
Corded Tabletop Conference Phone
Expandable Up To 4 Conference Phones
Up to 32 Participants
Full Duplex Sound
360-Degree Microphone Coverage
Noise Cancelling Audio Technology
Conference Call Recording
10 Station Speed Dial
LCD Display
2-Year Product Warranty
For more information on Conference Phones
Call (337) 205-9364